The Nervous Traveller's Guide to the UK Border Control
— Winner Adebayo
Arriving in a new country for the first time is exciting. For some, it marks their first visit abroad and for others, a fresh start.
While every weary traveller will want nothing more than de-stress after a long flight, most travellers will have to get through one more hurdle - getting through immigration and customs at the UK border control. Getting through immigration can be understandably nerve-racking for a first-timer because of the strict protocol and wait time. That's why our guide is here to instruct you through the process.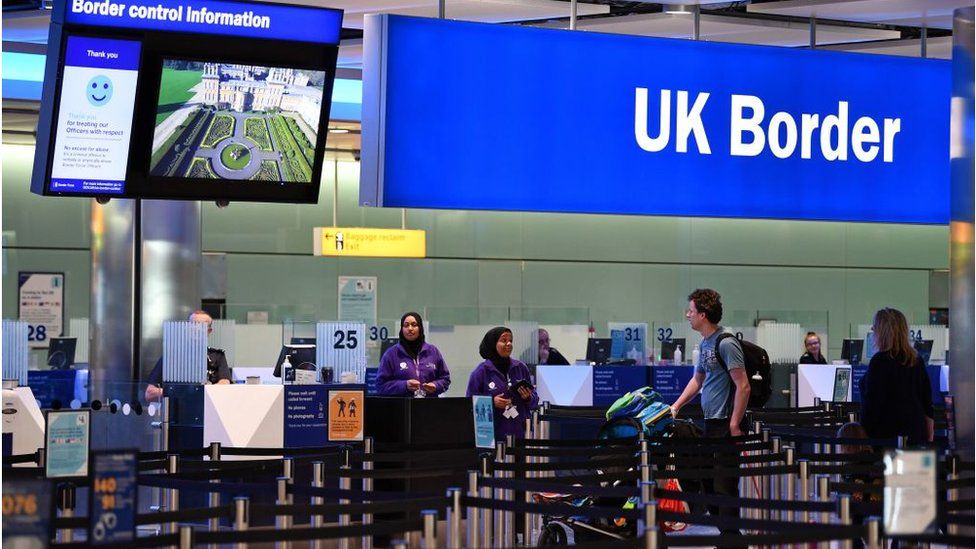 Arriving at the Airport
When you get off your plane, look out for the signs to follow and read instructions on the display screens to lead you to the border control.
At the border control, there are two queues: one for nationals from the UK/EU/EEA, and one for all other nationalities. The queue for the latter (i.e. other nationalities) is expectedly long during peak seasons. If you arrived via Heathrow Airport, you might experience over 1hr wait time.
When you get to the front of the queue, have your passport and decision letter on hand as a border official will need to see them to verify your visa. Next, the border officer will ask you simple questions particular to your visa type and may request additional documents from you. This is the part that gets many travellers anxious as the questioning could amount to an interview.
However, once they are satisfied with your response, your passport will be stamped and you are officially cleared to enter the country.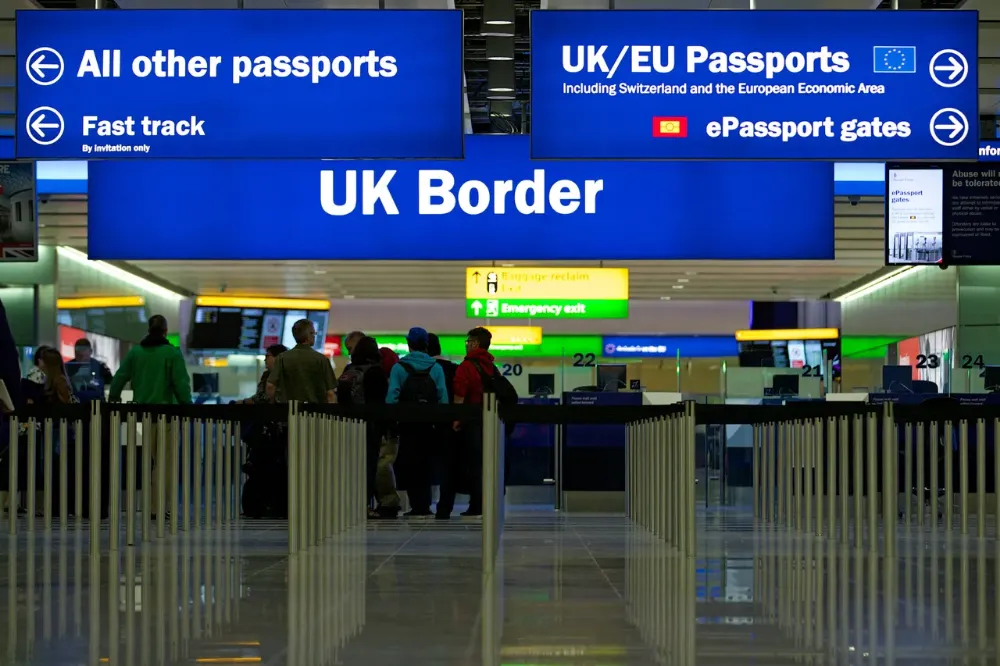 Citizens of the EU, Australia, Canada, Iceland, Japan, Liechtenstein, New Zealand, Norway, Singapore, South Korea, Switzerland and the USA with a biometric chip in their passports can avoid the queue or border officer by using the electronic passport gate (e-gates) to enter the country. It's only advisable to use the e-gates if you're coming to study for less than 6 months. See UKVI's guidance on using the e-gates.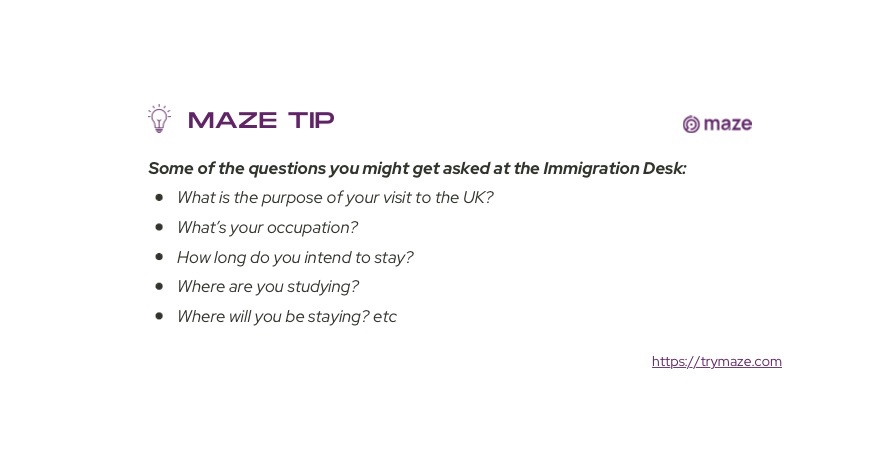 What documents do I need to show?
You will need to present your passport, the passport page holding your UK visa vignette sticker and the Home Office decision letter.
For international students coming in for the first time, it's advisable to also have the following documents on hand:
Your Confirmation of Acceptance for Studies (CAS)
The University's offer letter
Your recent bank statements
Details of your accommodation (such as temporary accommodation, tenancy agreement or confirmation of a place at a student hall)
A letter from your parent(s) or legal guardian(s) giving you permission to study in the UK if you're under 18 years old
A TB test certificate (if applicable)
The UKVI has published a guide to highlight what is expected of you.
If you are travelling with a child, you will need to show additional documents like a birth certificate, marriage certificate or letter of consent from the child's parent(s).
Baggage Reclaim
Once you've gotten past immigration, the next port of call is the baggage reclaim. Follow the signs to the baggage reclaim in 'Arrivals'. Finding the right baggage carousel for your flight may be a little tricky, so be sure to look at the display screens for your flight number and the name of the place your flight departed from.
At the carousel, make sure you pick up the right bag and report to an airport staff if one or all of your luggage doesn't turn up. In this case, you may also need to fill in a lost baggage report. Usually, if your bag is missing it will be delivered to you in a few days.
Baggage trolleys are provided for free use at the reclaim area and they can be taken up to the car park, bus station or rail station access points.
Getting through Customs Control
After you have claimed your baggage, you must pass through customs to exit to the 'Arrivals' hall. There are 2 routes through customs control:
The green door if you have nothing to declare
The red door if you have goods to declare
The following are some of the things you must declare at the red channel:
anything over your duty-free allowance
banned or restricted goods in the UK
If you are carrying goods to sell
If you are carrying more than €10,000 (or its equivalent) in cash, if you're coming from outside the EU
If you are carrying any food products on the banned or restricted list.
Once you've passed customs, you're ready to head off to your new adventures.
General Tips to avoid delays at the Airport
Keep your passport and relevant documents with you and not packed away in your luggage.
If you're travelling together as a couple or family, move together.
Remove any worn accessories; hat, headphones and sunglasses before you walk up to the immigration officer's desk.
Border officers might be unsmiling, strict and unsympathetic, remain polite during your interactions and respond to the questions correctly and calmly.
Put your mobile devices away as you approach the immigration desk.
In some UK airports, you can pay a small fee to fast-track your passport control checks
Before you pack your luggage, research the list of generally prohibited items and food products so you can avoid unnecessary scrutiny at customs.
The Home Office website is regularly updated with the latest changes at the UK border control.
This guide is accurate at the time of publishing. Check the website of the airport you're arriving at for updated information.
---
Maze provides an end-to-end platform that disrupts the traditional relocation model.
We connect people relocating with service providers, reduce cost and enable the personalization of customer journeys to the UK.
Follow us on Instagram, Twitter, Facebook and LinkedIn, or Contact us with your relocation enquiries.