How to Connect to Free WiFi hotspots across the UK
— Juliet Edjere
Hey, who doesn't love free WiFi?
With giffgaff, you can connect to thousands of free WiFi hotspots across the UK using the app. Magic right?
Use WiFi on the London Underground and secure public hotspots across the UK. WiFi on the London Underground is provided by Virgin Media. Giffgaff has teamed up with O2 to provide access to about 8,000 secure hotspots around the UK.
There are no top-up requirements to use WiFi Extra. All you need is an active giffgaff SIM card and WiFi Extra settings installed, and you're good to go.
It's free, and using it won't affect your goodybag allowances or credit balance.
So let's get into it.
Get a giffgaff Sim
With Maze, you can order a free giffgaff SIM and get £5 extra credit when you activate your SIM card.
Joining giffgaff is easy:
Order before 5 pm, Mon-Fri to get your SIM delivered the next day
Activate your SIM
Giffgaff SIMs come in 3 sizes and fit any phone.
The plans can be used in the EU and selected destinations just like you use them at home and at no extra cost. Enjoy low rates when calling outside the EU and selected destinations.
Download the giffgaff app
Next, let's get the giffgaff app. The giffgaff app allows you to:
Check your allowance on the go
Buy a goodybag and add credit with ease by card, Paypal or with a giffgaff voucher
Add multiple accounts and switch seamlessly between different giffgaff accounts with the tap of your phone
Access thousands of UK hotspots with WiFI Extra
and a whole heap more
To download the app you'll need:
Android 4.4 or above
iOS 10 or above
You can download it from the App Store, Google Play and Huawei. It's a breeze to use and fits right in your pocket.
Switch on WiFi Extra
Now let's follow the steps below to switch on WiFi Extra on your giffgaff app.
Are you using an iPhone?
Launch the giffgaff app and log in. You can log in using your giffgaff member name and password.
Tap Account at the bottom on the right
Tap WiFi Extra in the App settings area
Tap Download now on the app to download the WiFi Extra configuration profile. Tap "Allow" when prompted
Go to your phone's settings and choose: General > Profile > WiFi Extra, and then "Install" to set up the profile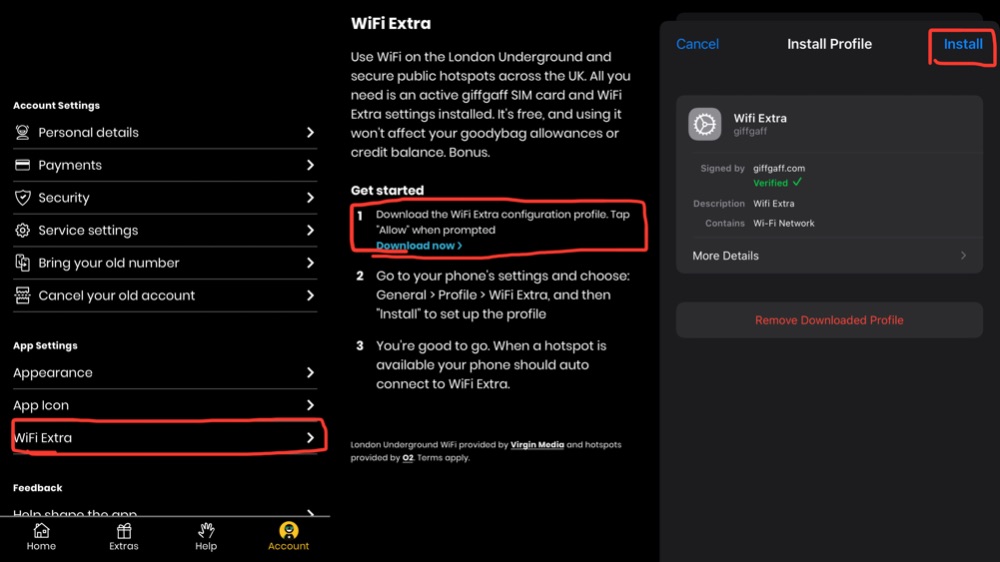 Got an Android 11?
If using Android, WiFi Extra is only supported when using version 5 or higher. You'll need to configure your WiFi settings manually. Here's how:
Open Wi-Fi settings
Click Add network
Set Network name/SSID: Wifi Extra
Set Security: WPA/WPA2 or WPA3-Enterprise
Choose EAP method: SIM
Click Save
The WiFi settings will be installed automatically on your phone, meaning future connections will be seamless. You're good to go. When a hotspot is available your phone should auto-connect to WiFi Extra.
So that's how you can use giffgaff WiFi Extra hotspots or get WiFi on the London Underground.
It's a piece of cake!
---
Maze provides an end-to-end platform that disrupts the traditional relocation model.
We connect people relocating with service providers, reduce cost and enable the personalization of customer journeys to the UK.
Follow us on Instagram, Twitter, Facebook and LinkedIn, or Contact us with your relocation enquiries.
Other Posts